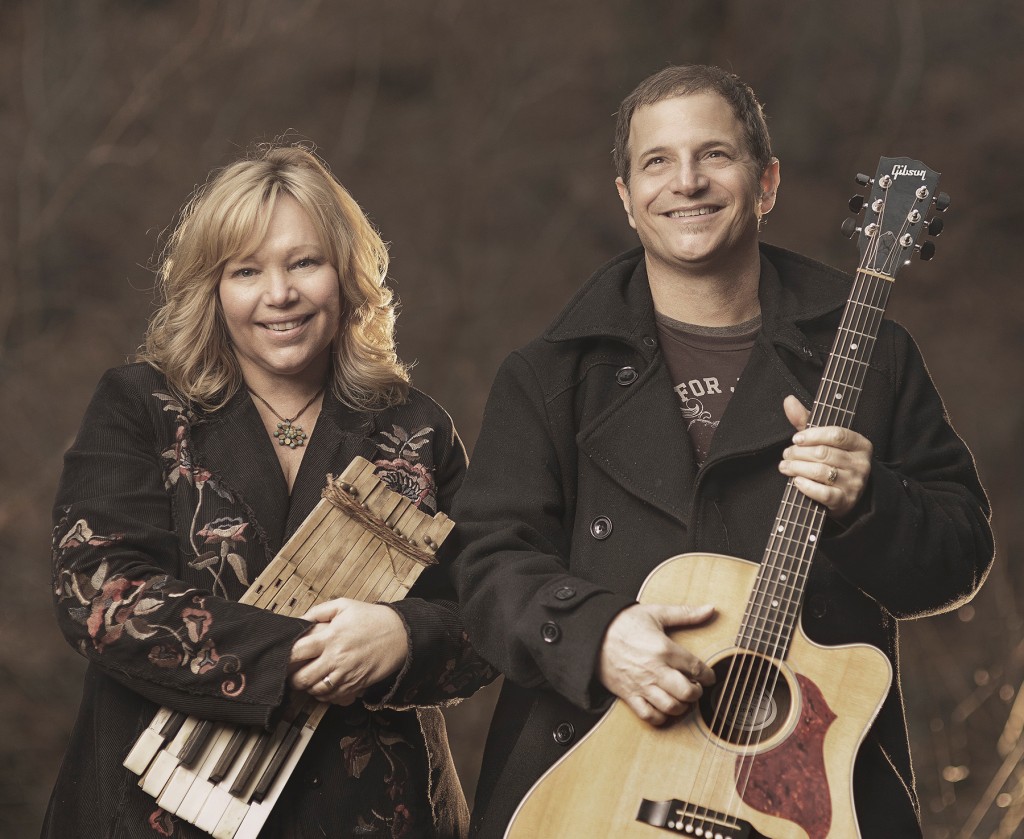 The Levins are a harmony-driven acoustic duo known for their sun-splashed, peace infused songwriting that connects on a universal level. From harmony in voice to harmony for humanity, husband and wife duo, The Levins, seek to uplift and unite with unflinchingly feel-good folk-pop, infectious musicality, sharp songwriting skills,  and a unique approach to vocal harmonies that is both soulful and unexpected. The duo's vocal interlace is perched on a rich bed of guitar and piano instrumentation.
The Levins have garnered prime accolades and acclaim for boldly uncompromising and heartfelt music. Select highlights include ranking on Folk and Roots DJ charts, nabbing Top 10 positions and landing on multiple DJ yearly Top 10 song and album lists, as well as earning awards from recognized platforms such as Indie Acoustic, Empower Music, CTFolk, S. Florida Festival, and MASC. Their songs bridge genres and communities, offering them opportunities to perform at The Parliament of World Religions and co-produce an original full-scale musical theater/Euro-Circus production in San Francisco, based on their album, "My Friend Hafiz," which is inspired by Daniel Ladinsky's poetic renditions.
They have toured with their most recent CD, Caravan Of Dawn, which orbits around  transformative messages of healing, exploring the "sorrow inside joy and joy inside sorrow."
"The open hearted songs of The Levins feed my soul. What the world needs now more than ever is the poetry, spirituality, and humanity of their uplifting musicality."
"With Caravan of Dawn, The Levins emulate a timeless sound that's chock full of seamless harmonies, and the kind of unassuming but reassuring melodies that might have sprung from the seminal sounds of the Laurel Canyon scene during its heyday in the late '60s."
"The Levins are originals! Interlocking vocals – counter singing – these two sound like multiple vocals and I can think of no one who writes tunes in this fashion. It's almost as if they have created a new "classical" music."
Songs that smile…. remarkable vocal arrangements that feature intertwining lines and gorgeous harmonies, a sun-splashed style underscores the positive messages of love, peace and self-awareness. A perfect antidote to the headlines of the NY Times and the world of sadness and horror hinted at on television. The straight forward vocals and unhurried tempos allow listeners to share in the earnest and honest musical art that Julia and Ira have perfected. Each tune serves as another stepping stone toward a better day and a richer life.
"Somewhere between Jackie & Roy, Lou & Peter Berryman, and Kim & Reggie Harris lie the Levins. The songwriting is alluring, the vocals seem like one-blended, their playing and stage presence just perfect. In the pantheon of husband-wife duos, in any genre of music, run the tape and see....this duo is how it is done."