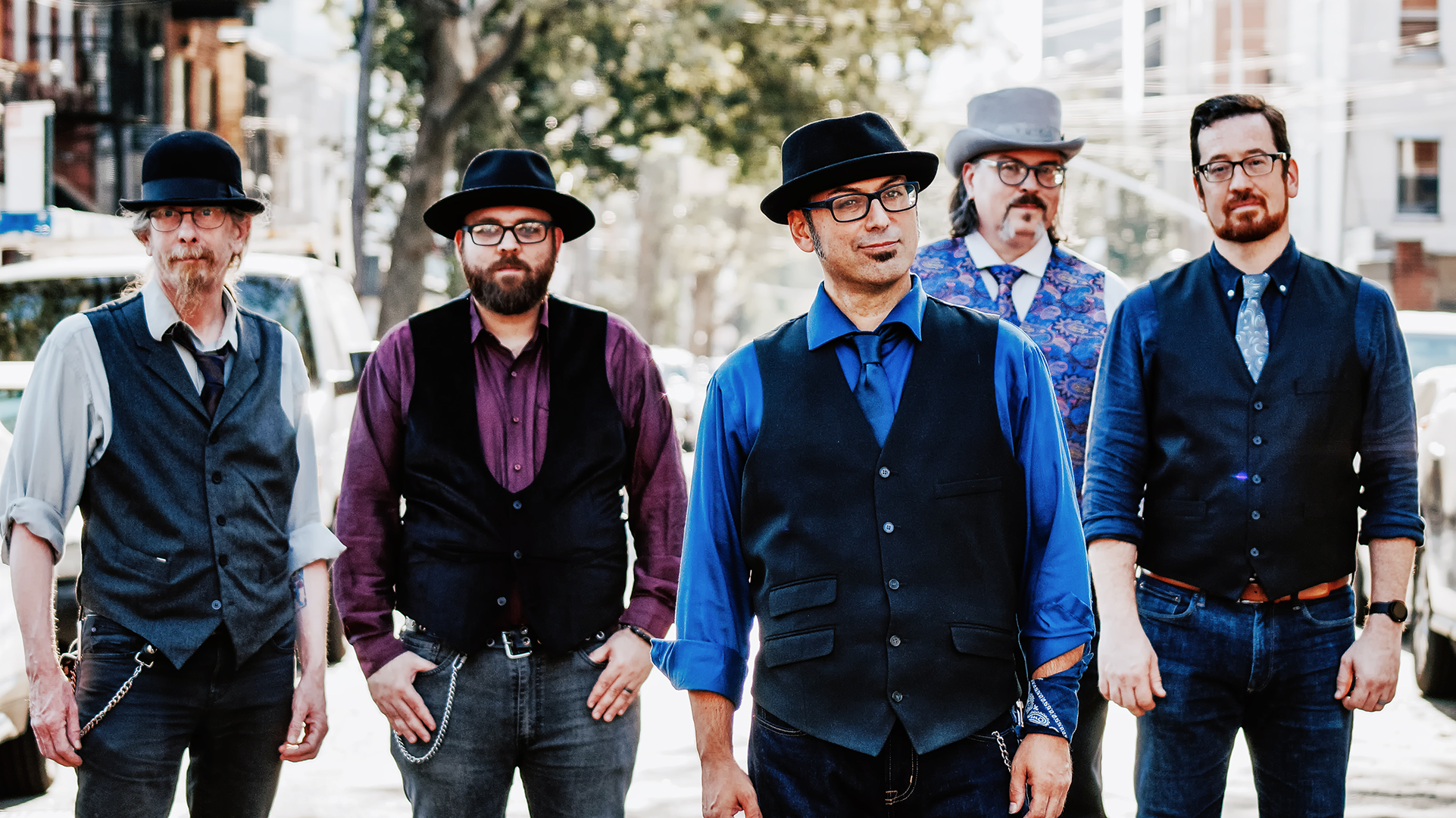 Scott Wolfson and Other Heroes sings the music of, by and for outcasts and outliers.
When Scott Wolfson and Other Heroes take the stage, they're not just playing a show. Their vibe is party, reunion, and catharsis in one – the energy of their tunes is hard to miss, but each song carries the weight of humanity's dark corners. Taking inspiration from past and present – folk and roots rock artists like The Limeliters, The Band, and The Byrds, and more recent flag-bearers like R.E.M., The Decemberists, and Jason Isbell & The 400 Unit, Scott Wolfson and Other Heroes take a folk rock canvas and weave in big helpings of Broadway, Jazz, Blues, and Country, giving them a sound both familiar and unique, distinctly American and part of a broader world.
As much as fans love Scott's songwriting for lifting up the lives of the unsung, newcomers are often surprised by the range and tight musicianship of the band. No Depression wrote, "Listen to these dudes…these people are magicians…wizards…". Skyler Bode, Kirk Siee, Matt Laurita and  Chris Kelly are not only skilled players, but musical shapeshifters. 
The Alternate Root Magazine calls them "…an Indie Folk music that could work on street corners or big stages." While the band loves the circus they bring to festivals, visitors to their house concerts and listening rooms soon realize that their intensity works in smaller settings too. As John Platt of WFUV said, they're "…a talent-laden band. They're equally comfortable going electric or acoustic." 
A Scott Wolfson and Other Heroes show is an exercise in the unexpected. As No Depression said, "…Wolfson will not only defy the norm, but all expectations as well." Their mix of talent and wit has brought acclaim as Most Wanted Artists in the Falcon Ridge Folk Festival, Formal Showcase Artists at the Northeast Regional Folk Alliance, and frequent performers at The Philadelphia Folk Festival.
The band has been celebrating their 10 Year Anniversary with the release of Undercover Heroes, their covers EP of "audience favorites" that they've been performing at live shows and that have been a big influence on them as a band. Songs by Woody Guthrie, Dave Carter and Old Crow Medicine Show are included. They have been releasing a steady stream of singles and music videos the last few years and are currently in the studio recording songs for their forthcoming release of new original music.
"Cinematic in scope, Flying Backwards finds Wolfson and company creating over the top melodies and an adroit execution that underscores what is in many ways a larger than life production."
"This band doesn't hesitate to ignite like a match on their fiery second collection, Welcoming The Flood. Listen to these dudes…these people are magicians…wizards…"
"Scott Wolfson and Other Heroes are powerful, energetic and FUN! Their playful performances are made awe inspiring by the amazing musicianship that each member brings to to the stage (or in our case the Living Room!). I feel lucky each time I hear these great musicians and feel privileged when I have an opportunity to host them. There are few groups with the power to entertain and delight as these guys do!"
"One of the reasons the singer/songwriter fan community loves Scott Wolfson and Other Heroes is the band's upbeat, hard-driving expression in the face of life's challenges."
"Scott Wolfson & Other Heroes is a talent-laden band. They're equally comfortable going electric or acoustic, and Welcoming the Flood is full of well-crafted songs that reveal new insights with repeated listening."
"Welcoming The Flood is the next step in the evolution of Scott Wolfson And Other Heroes. The sound is fuller, the band more expansive and the songwriting is witty and intelligent.This is the best SWAOH project yet!"
"...Scott Wolfson and Other Heroes, a remarkable band from the folk Mecca of Jersey City. Their inspiring set, the last of the afternoon, had everyone on their feet singing and dancing in a spontaneous celebration that summed up what the one day conference was all about. Music that reaches people. Music that is shared. A community that raises their voice as one."